Lifting and Lashing Points
Product Announcement from RUD Chain, Inc.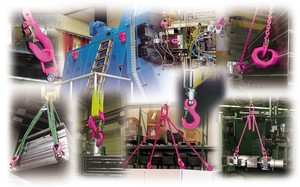 RUD® has developed and improved a complete range of lifting and lashing points, both in bolted and welded versions. By using high-tensile heat treated steels, smaller sizes can be used for suspension up to 80 t. into which the corresponding sling and lashing points can be attached.
Suitable for every sling systems of the corresponding WLL
Optimized design avoids damage to sling systems and the valued load during turning
Robust, side-insensitive die-forged and tempered hook safety catch
No protruding hook top, no unintentional hooking in
Wear marking at the hook
Measurable overload testing
Overall loading, pivoting in a universal way, pivoting by 360°
Clear identification of nominal WLL
Double ball bearing, thus pivoting under load without jerks
CR, Ni, Mo steel, specially heat treated
All parts 100% crack detected
Max. WLL with smallest welding area
Variable bolt length, also for transitional bores
Fluorescent pink powder coating - Heat Indicator
Quick amortization by an improved handling, no damages due to a safe transport
The versatile PowerPoint® can be quickly and safely attached without using additional hardware (e.g. shackles) - enabling at the same time, shock-free tilting, turning and twisting of the load achieved through the unique captive double ball-bearing assembly.
Industrial accidents, and fatalities, occur due to incorrect eyebolt installation
The StarPoint® is the perfect solution to eliminate the unsafe, rigid style eye bolt. The StarPoint® swivels to the direction of the load lift so the WLL is always at the direction of the load. The unique design of the StarPoint® assures a safe lift and prevents damage to precious loads.
The stainless steel Inox-Star® bolt resembles that of the DIN eye bolt, but its pentagonal design is distinctive. The ring body can be turned and adjusted for any load direction, making possible a 50% higher working load limit than the conventional DIN eye bolt.
The RUD-VLBG load ring- can be turned by 360°, aligned to the direction of pull, the load ring can be tilted, guaranteeing full WLL in all load directions.
The new weldable VLBS ring bracket is forged out of the high strength material CrNiMo with two patented inner supporting lugs. It provides an optimal sitting of the hook and offers better protection for the clamping springs.
Please contact RUD Chain, Inc. for additional information about these lifting points.
Check out the entire collection of RUD's lifting and lashing points on www.rud.com or FIND A RUD DEALER
---