TECDOS - Drive Systems
Product Announcement from RUD Chain, Inc.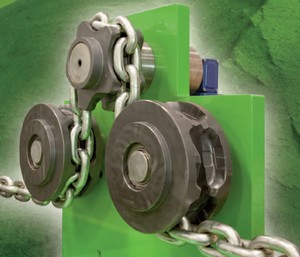 For the first time, TECDOS® offers complete system solutions for drive and conveyor systems from one source.
As a matter of principle, RUD has always placed long-term partnerships with its customers at the center of all its activities.

The experience it has gained through intensive cooperation with companies in the most demanding industries has inevitably contributed to the outstanding features of its highly wear-resistant RUD round steel chains.
That result is genuine innovation because, above and beyond greater wear and fatigue resistance, RUD also offers you extensive support with the engineering design for your projects.
With TECDOS, we integrate tried and tested components in technically demanding system solutions. We have unique capabilities as manufacturers, planners and distributors of drive and materials handling components ranging from round steel chains through drives to structural design. TECDOS often offers new, more economical alternatives for a wide variety of drive and materials-handling tasks. read more
TECDOS® heavy-duty chain ensures an optimal fit, so that the chain runs smoothly with little wear. The breaking forces of the single chain strands range from 20 to 1287 kN. The strongest strands can pull loads weighing more than 10,000 tons or lift goods weighing up to 26 tons. The maximum loading capacity of the Tecdos system ranges from 125 kg to 100,000 kg.
The TECDOS® chain drive described above has already been used many times to drive ship's cranes and ship loading systems, and it has proven to be highly efficient in practice, even in highly corrosive marine enivornments.
If you would like to use round steel chains for lifting, conveying or pulling tasks, the RUD TECDOS® System offers you a large number of well-matched components. You are welcome to draw on our engineers know-how for calculating chain drives and selecting suitable components. We look forward to developing new drive solutions with you.
Please contact RUD Chain, Inc. for more information.
Click here for the Tecdos Brochure or visit www.rud-tecdos.com
Contacts: Mark Mayer (319) 210-7372
e-mail: mark.mayer@rudchain.com
---