The RUD® INOX-STAR Eyebolt
Product Announcement from RUD Chain, Inc.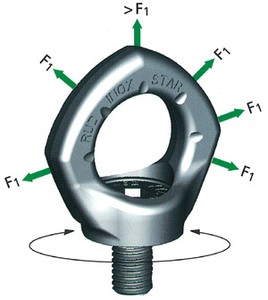 The new stainless eyebolt RUD®INOX-STAR
Industrial machinery directives mandated across the European Union require appropriate installations for safely lifting, swivelling, and turning certain heavy constructions. According to the directives, lifting points and suspension assemblies should allow all-side loading, with a 4:1 design factor protecting against breakage; should be stainless, lacking sharp edges, and lightly constructed; and should offer simple attachment of the lifting appliances-hooks.
The shape of the Inox-Star bolt resembles that of the DIN eye bolt, but its pentagonal design is distinctive. Once the special bolt has been tightened, the ring body can still be turned and adjusted for any load direction, making possible a 50% higher working load limit than the conventional DIN eye bolt.
Pentagonal Shape- significantly different to the DIN 580 bolt
360° - Swiveling. Adjustable in load direction.
WLL indication for the worst load case.
Design factor 4:1 against breakage.
Ring body and bolt are made of the material 1.4462, Duplex-Steel.
100% - Crack detected.
Bolt and ring are fitted and held captive.
Patented wear marks on the ring body.
The INOX-STAR must be able to be turned through 360º when tightened.
INOX-STAR M12 - 600kg (1320 lbs) WLL
INOX-STAR M16 - 1200kg (2640 lbs) WLL
INOX-STAR M20 - 1800kg (3960 lbs) WLL
INOX-STAR M24 - 2600kg (5720 lbs) WLL(in preparation)
Currently, RUD® can supply standard M12/16/20/24 units with load limits ranging from 600 to 2,600 kg. Upon request, points up to size M36 and with a load limit of 8 tones can be produced in stainless steel. RUD® offers an extensive range of lifting points for safe handling of machines during manufacturing.
Similar product: The RUD-StarPoint® swivels to the direction of the load lift so the WLL is always at the direction of the load. The unique design of the StarPoint® insures a safe lift and prevents damage to precious loads.
All RUD products are sold through an appointed RUD distributor; any inquiries will be directed to one of our distributors in your area, but we are happy to answer any technical question that you may have about our products. Please call us at (800) 553-7993 or e-mails at sales@rudchain.com if you have any questions about this product and/or other RUD products.
RUD Regional Sales Managers:
West and South US: Jay Schroeder (319) 210-7471
East: Patrick Hughes (800) 533-7993 Ext # 229 or (319) 631-4974
---