The StarPoint® Swivel Eyebolt
Product Announcement from RUD Chain, Inc.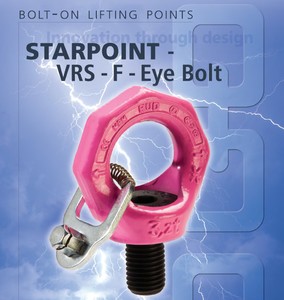 Many manufacturing organizations are unaware that the direction of the pull can have a major impact on the working load limit of the standard eyebolt, thus creating a safety hazard. This could ultimately lead to the chance of potentially catastrophic injuries. The proper use of lifting points such as hoist rings, swivel eyebolts, fixed eyebolts and other threaded and welded tools is, even in this modern day, often overlooked. The use of forged eyebolts is still common, and potentially a dangerous practice if not used correctly. The use of inappropriate lifting points and incorrect applications of eyebolts significantly increases the probability of failure. A non-vertical eyebolt lift causes the load rating to seriously diminish. The solution to this problem is the use of proper lifting points that adjust to the direction of the pull which allows full engagement of the bolt, assuring a safe lift.
RUD has made great efforts to develop and improve on traditional lifting points. The modern design of RUD's lifting points prevents valuable loads from being damaged and are the perfect solution to eliminate unsafe lifts. (read more about modern lifting points) RUD's modern lifting points include the STARPOINT® and the POWERPOINT®;these lifting points offer a viable solution, as they are designed to adjust to the direction of the pull.
German Technology: Geometric construction and tolerances of the VIP-chains and lifting points are adapted to a higher quality class. Unique design allows for safe lifting in any direction.
As the StarPoint swivels to the direction of the load lift, the WLL is always at the direction of the load.
The use of a StarPoint® in place of a traditional eye bolt will eliminate the chance of bent eyes, backed out threads, or over-tightening causing undue stress on the stem.
· The StarPoint® is available in sizes 1/4" to 2" and metric sizes of M8 through M48
· Marked working load limits (WLL) are rated at 90° from thread
· Capacities from .4 to 12 metric tons at 90° and 1 to 32 metric tons at 0°
· Clear indication of working load limit in metric tons and lbs. for side loading applications
· Forged material (1.6541) alloy quenched and tempered
• Distinct Florescent pink powder-coating changes its color when temperatures exceed 200°C. If the Starpoint® reaches temperatures of 400°C, the color changes to a deep black with small bubbles, indicating that the it has been over-heated.
· Body and bolt, 100% electromagnetic alloy crack tested in accordance with specification EN 1677. Design factor of 4:1 in any direction
· For the tool - less assembling. The STARPOINT® is supplied with an annealed star - profile - key. Simply engage the Hexagon socket bolt with the star - profile - key and use your fingers to respectively tighten or untighten the arrangement . Disengage the key. The STARPOINT® is rotatable!
Please read: The StarPoint is the perfect solution to eliminate the unsafe and rigid style eye bolt.
FIND RUD STARPOINT® DEALER
---