Slat Conveyor
Product Announcement from Ryson International, Inc.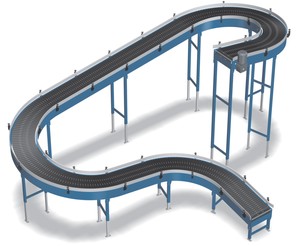 The Ryson Slat Conveyors and Curves are ideal for inclines or declines in tight quarters and can handle multiple curves with one drive.
The Ryson proprietary chain slat arrangement becomes a versatile and flexible conveyor when used outside a spiral conveyor. Only one drive is required for each 250 feet of conveyor, which minimizes the number of transition points required. This also significantly reduces the cost of controls and system integration. Available in slat widths of 8",12", 16", 20" and 24". The Ryson Chain Slat conveyors can also be configured as an oval shaped spiral, becoming a space efficient dynamic buffer storage device. More details on the Ryson Chain Slat arrangement are available under the Ryson spiral conveyors page.
---