SAB Cables for Railroad Technology
Product Announcement from SAB North America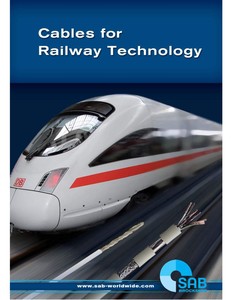 Find a variety of cables for the transportation industry in our latest catalog for railway technology. This is where you will find cables that meet all industrial standards including ASTM, DIN, NF and many more. Our customers have tested our products intensively and confirm that they have a longer service life than others. In all product ranges we are certified acc. to ISO 9001:2008.
We have established an environmental management system for our company acc. to ISO 14001:2004, an occupational health and safety management acc. to NLF/ILO-OSH 2001 and OHSAS 18001:2007 as well as an energy management system acc. to ISO 16001.
Also visit our website for the full line of Low Smoke Halogen Free Cables and much, much more. SAB Halogen-Free Cable is manufactured for applications in which insulation with low smoke generation, low toxicity, and low corrosiveness is a necessity!
Our SABIX material is flame retardant, have a lower smoke density, have no flame propagation, and will not emit corrosive or toxic gases if burned.
For clarifications, details or explanations about our products and how they can be used in your specific applications, please give us a call today. Our technical staff stands ready to assist you with your wire and cable needs!
---