New Airspray Low Pressure Air Hose
Featured Product from Sames North American Corporation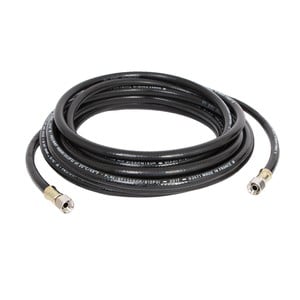 SAMES would like to announce the release of the new Airspray Low Pressure Air hose.
We now offer our customers a new range of hoses that bring fantastic advantages to the end-user compared to our competitors.
New Airspray Low Pressure Air Hose works well with:
Airspray manual pressure spray gun
Airspray automatic guns
Diaphragm pumps
Airspray tanks (pressure pot)
Airspray piston pumps
Recirculating loop
Fluid Transfer solutions
The new hoses are naturally compatible with most competitive equipment in the world.
New SAMES Low-Pressure Air hoses are available in 3 diameters:
Small (Airmix® guns): 6.5 mm (1/4'') internal diameter
Medium (Airspray guns and tanks, small pumps): 8.0 mm (5/16'') internal diameter
Large (Long distance, big pumps): 9.5 mm (3/8'') internal Diameter
Three Unique Advantages:
The Lightest on the Market
Their weight is 61 grams per meter (small diameter hose), 72 grams per meter (medium diameter hose) and Air 100 grams per meter (large diameter hose).
The Most Flexible on the Market
The Bending Radius is not equal to the hose Flexibility. The hose bending radius is linked to the ease of handling the gun; with a smaller bending radius, the hose curves sharper.
The best Quality and Safety on the Market
SAMES new Air hoses are Anti-static (their resistivity is less than 106 Ω/m) and compatible with other ATEX equipment.