Robotic solvent-based paint sprayer PPH 707 SB-2K
Featured Product from Sames North American Corporation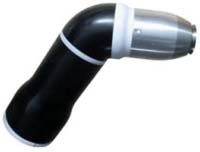 Robotic Sprayer for two-component solvent-based paints equipped with high speed rotary bell.
Low material loss
High reliability
Easy to maintain
PPH 707 SB-2K is a sprayer dedicated to the electrostatic application with internal charge of 2 components liquid paints.
It's equipped with the static mixer located just before the bellcup injector, which helps to reduce the mixed paing folume to only 2cc.
PPH 707 SB-2K can be built into any type of multi-axis robot.