Electrostatic Manual NANOGUN-MX AIRMIX Spray gun
Featured Product from SAMES KREMLIN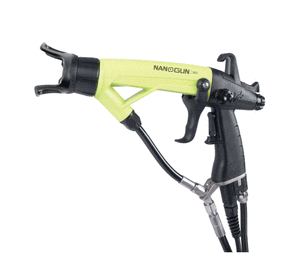 Performance, Productivity and Sustainability are the key features of the new NANOGUN- MX Airmix® Spray gun!
Since 1925, SAMES KREMLIN has been leading innovative manufacturers of paint equipment specializing in spray guns and pumps for the general industrial and wood markets. The new NANOGUN-MX manual electrostatic spray gun links the expertise of Kremlin Rexson and SAMES companies, thus combining electrostatic spray technology for liquid paints with Airmix® medium to high pressure spray technology.
Nanogun-MX has been developed to meet the needs of markets requiring high levels of production like aerospace, agriculture, metallic construction, furniture, transportation and energy.
Perfectly adapted to paints with an average viscosity, NANOGUN-MX spray gun is available in (2) pressure versions: 120 and 200 bar. NANOGUN-MX spray gun is perfect for products with low to high resistivity to meet all the product parameters used by our customers.
NANOGUN-MX is lightweight and ergonomically designed while delivering an excellent electrostatic wraparound effect which improves the overall operator experience.
Airmix® spray technology combined with ultimate electrostatic effect delivers a uniform film build thickness on parts being sprayed and allows you to achieve the highest transfer efficiency in the marketplace. An excellent transfer efficiency contributes to a very quick return on investment while improving your productivity, maintenance costs, and VOC reduction for total cost management.
The innovative GNM 6080 control module is user-friendly & easy to maintain. It uses high quality components and features with advanced corrective & preventive maintenance reminders.
Listed below are the Customer Benefits of the new Nanogun-MX Airmix® Manual Electrostatic Spray Gun:
Outstanding performance with high productivity
Single setting knob with adjustable flat spray provides great versatility & a higher transfer rate with excellent finish quality
Excellent electrostatic wraparound effect
Combining the NANOGUN-MX spray gun with SAMES KREMLIN Airmix® pumps will be the asset you need for high production in your finishing workshops.
Finishing has never been so easy and convenient!