FPro S Airspray Conventional Manual Spray Gun
Featured Product from SAMES KREMLIN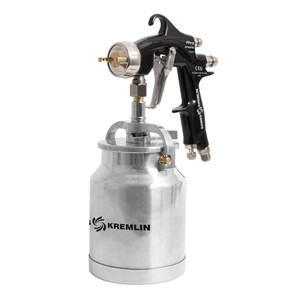 SAMES KREMLIN would like to announce the release of the new FPro Suction gun range.
The FPro S (Suction) guns are a combination of the successful features of the FPro P, such as the lightweight gun body, enhanced suction capacity valves, the Vortex, and a few new features.
Suction guns represent a good alternative to gravity guns, as they benefit from several interesting advantages:
The cup is located below the gun and the balance is much more comfortable
The flat bottom cup allows the user to set the gun down with no additional support
The large cup capacity (1L /1.06 QT) allows you to spray longer without refilling
Unique Selling Points:
SAMES KREMLIN's new FPro S guns benefit from (3) main advantages:
1) Breakthrough in Spraying Technology
2) Enhanced Suction Power
3) Brand new suction cups
The FPro S suction Airspray gun is perfectly balanced and provides a superior finish for all levels of painters. SAMES KREMLIN offers the largest range of spray guns and accessories for all FPro applications in high-end finishing markets.