NANOGUN MV Electrostatic Low Pressure Spray Gun
Featured Product from SAMES KREMLIN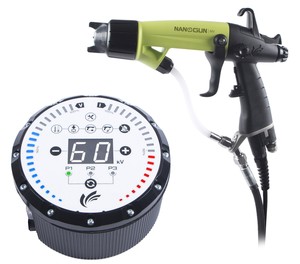 EXEL North America, Inc. would like to announce the release of the New SAMES Nanogun Low Pressure Manual Electrostatic Spray Gun.
The Nanogun MV manual low pressure electrostatic spray gun is designed for spraying 1K and 2K solvent and water-based materials in a variety of markets including: Aerospace, Agricultural & Construction, Metallic Furniture, Wood, and Automotive Industries.
The NANOGUN MV™ delivers the following Features & Benefits:
Lightweight Manual Electrostatic Gun
Outstanding Finish Quality
Increased Operator Comfort and Reduces Fatigue
Easy to Maintain
Significant Paint Savings
Compressed Air Savings
Quick Disconnect Versions
Available in Round and Fan Spray Nozzles
The new NANOGUN MV™ delivers up to 20% higher transfer efficiency than previous gun models designed by SAMES.
Contact EXEL North America today at 1.888.332.0149 to learn more about this great new product and the savings you will experience once it is installed at your facility!
You may also email our marketing team at marketing@exel-na.com
See why customers prefer the NANGUN MV™ over the leading competitor!
We are Experts in Finishing and Dispensing Solutions for Over 75 Years!