Series 42 Differential Pressure Regulators
Product Announcement from SAMSON Controls, Inc.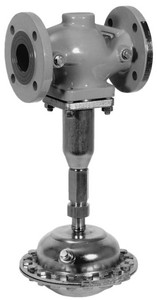 Applications
Differential pressure regulators for district heating supply networks, large heating systems and industrial plants. For differential pressure set points (Δp) from 0.05 to 1.5 bar
Valves sizes DN 15 to DN 50
Nominal pressure PN 16 to 40
Suitable for liquids and vapors from 5 to 220 °C, air and other non-flammable gases up to 80°C
The regulators control the differential pressure according to the adjusted set point.
Special Features
Low-noise, self-operated P-regulators requiring little maintenance
Suitable for circuit water, water/glycol mixtures up to 30 %,steam and air as well as other liquids, gases and vapors, provided these do not affect the characteristics of the operating diaphragm
Valve body optionally available in cast iron, spheroidal graphite iron, stainless cast steel or forged steel
Special version for oil
Especially suitable for district heating supply networks
Versions
Differential pressure regulators for installation in the flow or return flow pipe (see Typical applications):

Type 42-14 (Fig. 2) · With Type 2421 Valve for DN 15 to 50,distance piece and Type 2424 Actuator with adjustable setpoint Type 42-18
With Type 2421 Valve for DN 15 to 25,distance piece and Type 2428 Actuator with fixed set point, adjusted to Δp = 0.2, 0.3, 0.4 or 0.5 bar

ANSI or JIS versions available on request
Accessories
Refer to the Data Sheet T 3095 EN for any required accessories, e.g. compression-type fittings, needle valves, equalizing tanks and control lines.
---