Type 3767 Electropneumatic Positioner
Product Announcement from SAMSON Controls, Inc.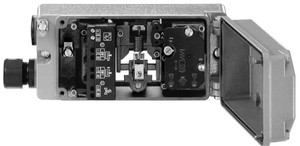 Applications
Single-acting or double-acting positioners for attachment to pneumatic control valves. Supplied with a pneumatic input signal 0.2 to 1 bar or 3 to 15 psi (Type 3766) or an electric input signal from 4(0) to 20 mA or 1 to 5 mA (Type 3767).Rated travels from 7.5 to 120 mm or opening angle up to 90°
The positioners ensure a fixed assignment between the valve stem position (controlled variable x) and the pneumatic or electric input signal (reference variable w). They compare the input signal received from the control unit with the travel of the control valve and, issue the corresponding output signal pressure pst (output variable y). A reversing amplifier for double-acting actuators produces two opposed signal pressures.
Special Features
Arbitrary mounting position; suitable for normal or split-range operation; excellent dynamic response; negligibly small influence of supply air; adjustable proportional band (P-band); adjustable air output capacity; low air supply consumption; very insensitive to mechanical vibrations; low-maintenance compact design
Versions for hazardous areas in type of protection "Intrinsic Safety" II 2 G EEx ia IIC T6 or II 3 G EEx nA II T6 for Zone 2 (see "Summary of approvals")
Type of protection "Flameproof Enclosure" EEx d with Type 3766 Positioner and Type 6116 i/p Converter
Special version with CrNiMo steel housing available
Direct attachment to Type 3277 Pneumatic Actuator
Attachment to actuators according to IEC 60534-6
Attachment to rotary actuators acc. to VDI/VDE 3845
Benefits of integral positioner attachment
Tight and exact mechanical connection between actuator and positioner. No misalignment during shipping
Concealed linkage protected against touch and external influences to fulfill requirements of accident prevention regulations UVV (VBG 5)
Simple pneumatic connection between actuator and positioner
Presetting of the unit: Actuator with positioner
Optional pressure gauge for monitoring the input and output signal pressure (dial range from 0 to 6 bar and 0 to 90 psi). Refer to Information Sheet T 8350 EN for details on the selection and application of positioners, converters, limit switches and solenoid valves.
Versions
- Type 3766 · Pneumatic positioner
- Type 3767 · Electropneumatic positioner
Refer to article code for details on possible configurations.
---