2:1 & 5:1 Double Acting, Single Stage Air Booster
Featured Product from SC Hydraulic Engineering Corporation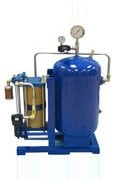 The ABD-2 and ABD-5 are double-acting, single stage air boosters in 2:1 and 5:1 ratios. These boosters can supply equipment with added air pressure when plant supplies are depleted due to overuse or under-sizing. The volume available from the boosters is ample for most equipment applications or units can be paralleled for additional capacity.
Applications requiring constant cycling should be sized so that the speed of operation does not exceed 40 cycles per minute (CPM). The easiest way to determine if an application meets or exceeds the recommended operating procedures is to fill out the data worksheet on Page 10 OR 11 of the catalog and e-mail (service@schydraulic.com) or fax (714-257-4810) it to our customer service department for sizing assistance.
ABD-2 2:1 Booster is shown.