30 Series Air Operated Liquid Power Unit
Featured Product from SC Hydraulic Engineering Corporation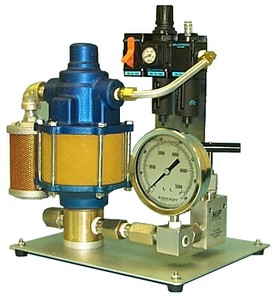 The most compact power unit available within the 10 Series pumps. SC Hydraulic engineers the 30 Series so as to minimize the space required by the unit. Light weight, easy to install.
Only three connections are required; air, fluid supply, and work port. The unit has two pressure ports, one equipped with a shut-off or bleed valve, which provides for ease of operation.
A filter/regulator with gauge and shut off plus lubricator (not required on D Series) is included. The unit has an air muffler for quiet operation.
A stainless steel liquid filled gauge is included on units rated up to 30,000 psi and are optional for higher pressure systems.
Check our D/10 Series pump family for pumps available on these power units.