L7-120 High Flow Liquid Pump
Featured Product from SC Hydraulic Engineering Corporation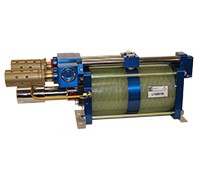 SC Hydraulic Engineering's new SC L7 Series pump has a 7" diameter air drive section and stainless steel wetted parts in the hydraulic section. This double acting pump is equipped with a double air motor drive section that roughly doubles the liquid outlet pressure compared to an equivalent single air motor design. It is capable of hydraulic pressures up to 12,800-psi at 100-psi drive air pressure.
This pump is ideal for high flow at relatively high pressure applications. Nominal outlet flow ranges between 2-gpm to 1-gpm depending on outlet pressure. Maximum air consumption is approximately 210-SCFM at free flow (zero output pressure).
It is designed to operate with air drive pressures between 15-psi and 100-psi under normal conditions. Typical applications include choke control operation, hydrostatic pressure testing and press applications.