Low Cost Shop & Factory Air Boosters & Systems
Featured Product from SC Hydraulic Engineering Corporation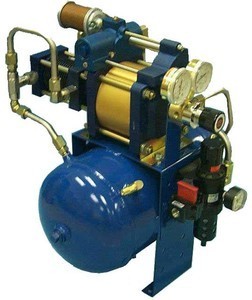 Explore SC Hydraulic's low cost solutions for boosting factory air to workstations experiencing line loss or reduction in PSI levels due to undersized, obsolete or poor performing air compressors. From complete air booster systems to the integration of their air boosters in your existing systems, SC Hydraulic's can save companies, who are faced with replacing or adding expensive new compressors, thousands; even tens of thousands of dollars.
Find out why Fortune 500 companies such as TRW, Parker Hannifin, Varco and companies worldwide have long turned to SC Hydraulics, not only because of the consistent and proven reliability of their air boosters in the field, but also because of the long term cost savings they realize through the longevity of their quality engineered products.
Why are they the best? Because that's all they do!
For over 60 years SC Hydraulics has specialized in air boosting and gas boosting products. They engineer and build all of their air boosters and component parts in house, which ensures the most stringent quality control process. This production model also allows them to pass on additional savings to their customers of up to 20% over their competitors who have turned to outsourcing many of their system components.
Features and Benefits:
Support multiple workstations - effectively boost air supply for up to 5 workstations
No lubrication required - prevents contamination in the air supply
Compact and lightweight (3.5" x 7" for booster component and 6" x 12.5" x 18" for complete systems) - highly application flexible
Range from 2:1 ratio up to 5.7:1 - increase air pressure for jobs requiring up to 855 PSI
Typical Applications include:
Press applications
Clamping and holding cyliners
Hydrostatic testing
Valve operators
Roll tensioners
Die cushions
…and many more
SC Hydraulics takes great pride in their responsiveness to the needs of their customers. From custom design assistance, to next day and emergency shipping, to technical support for customer applications before and after the sale, SC Hydraulics has the answer to your compressed air requirements.