New Expanded Line High Volume Booster Pumps
Featured Product from SC Hydraulic Engineering Corporation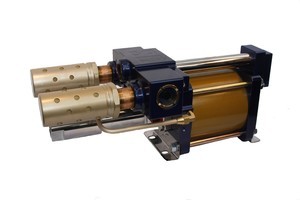 The L6 Series ATEX approved air operated liquid booster pumps from SC Hydraulic are the perfect solution to raise liquid pressures up to 12,500 psi in applications where electricity is not readily available and where high static pressure is required for long periods of time, such as:
Press Applications
Sub-sea Valve Controls
High Flow Power Units
Hydrostatic Testing
BOP Control systems
The L6 Series pumps, available in 40-1, 60-1 and 100-1 ratios, use air pressures up to 125 psi to convert the high liquid pressure and works for most fluids, including water. Since electricity is not required the L6 Series saves electricity and is ideal for use in hazardous areas and field applications.
These newest double acting pumps manufactured by SC have a 6" diameter air cylinder with stainless steel, chrome plated wetted parts and are compatible with almost any liquid, including Hydrogen Sulfide.
Another nice feature of the L6 Series is that they are dimensionally interchangeable with other competitive models. Available modifications include remote pilots and distance pieces for separation.
Contact SC Hydraulic today to discuss your specific high static pressure needs.