SDT200 Ultrasonic Detector
Product Announcement from SDT Ultrasound Solutions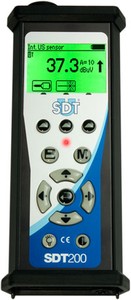 From the moment you pick up the SDT200 and grip its robust chassis you'll know SDT did not sacrifice quality for the sake of price. Now slip on the cushion comfort headphones and transport your senses to a world of crystal clear, high definition ultrasonic enjoyment. And suddenly you realize that the SDT200 makes the world of ultrasonic inspection obtainable for every budget without compromise.

Listen beyond the noise of your plant. Pinpoint compressed air leaks through miles of twisting air lines with laser point accuracy. Quickly inspect hundreds of steam traps sorting good from bad. Confidently re-lubricate motor bearings with digital accuracy. Let the SDT200 chart a course for less energy waste, more efficient processes, and a greener environment.
The SDT200 Features:
Standard internal ultrasound sensor
Internal temperature sensor
Internal laser pointer
One external sensor connection to attach optional sensors
Internal memory with 400 node locations to store Static Measurements
Standard USB conntection for DataDump software
Available now!

---