SDT270 Atex Certified
Product Announcement from SDT Ultrasound Solutions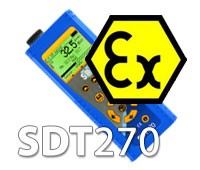 The SDT270 from SDT Ultrasound Solutions now meets the requirements set by ATEX for use in the most dangerous and potentially explosive atmospheres in the world. For the first time ever ultrasound inspectors working in intrinsically safe rated zones now have access to the unique and advanced features of the SDT270.
Launched in 2010, the SDT270 has held up its promise to evolve ultrasound inspection as a leading technology for Predictive Maintenance. SDT introduced the first multi platform upgradeable ultrasound device that measured both static (dBµV) and dynamic (time/spectra) ultrasound data. Onboard temperature and RPM measurements make the SDT270 the most complete ultrasound tool for Condition Based Monitoring programs.
"The SDT270 remains consistent with our mission to design progressive and smart instruments," says the company's general manager, Allan Rienstra. "We are proud of the worldwide acceptance of our integrated solutions as we compete for projects globally. We are now very excited by the new potential reach our products will have for petro chemical plants, offshore drilling rigs, refineries, and mining not to mention the many other areas where ultrasound can not currently be used."
While it took more than a full year to complete the certification, the official rating for the SDT270 is one of the highest attainable.
"SDT has a global reputation for quality, accuracy, and engineering", states Rienstra. "We saw no reason to short cut the ATEX certification process. The safety of our customers is a huge priority."
---