AI/IoT and Electronic Building Blocks for Vending
Service Detail from SECO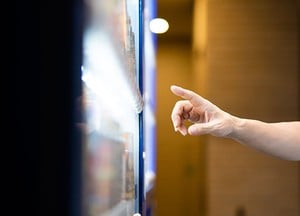 The Coffee & Vending industry is constantly expanding and requires continuous innovations linked to the demand for increasingly intuitive interfaces and latest generation payment systems. The challenge is to provide a continuous service in any condition, with the possibility of remotely updating the installed machines and checking their operation in real time, leveraging geolocation and predictive maintenance functions. For this specific industry we develop intelligent and modular touch interface solutions to be installed on the customer's coffee machines and vending machines, based on specific technical, operational, and aesthetic requirements.
Full-service approach
SECO provides comprehensive support: from the custom hardware design, software, and system integration and system assembling services, as well as the integration of UX design and envisioning process solutions.
Asset management in the field
Thanks to the integration of CLEA AI/IoT platform we can give your product access to a variety of added-value services and applications.