2 Way HDMI (1-in/2-out) Splitter v1.3b
Product Announcement from SFCable.com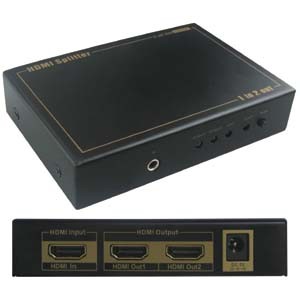 2-way HDMI splitter distributes the input of the HDMI signal into 2 outputs simultaneously. Each amplifier splitter's output can achieve long distance transmission of HDMI signal up to 60Ft.
Specifications
1-in / 2-out HDMI splitter
HDMI 3D supported
Full 1080p supported
Data transfer speed: 6.75Gbps
HDCP v1.2 compliant
IR extension supported (need 1105-SF-12, 1105-SF-13,and 1105-SF-14)
Power: DC5V (power supply included)
Max HDMI cable length : 60Ft
Dimensions: 111 x 75 x 23.5mm (4.4" x 3" x 1")
IR Extension function
IR Extension function allows you to extend remote control IR signal through HDMI cable.
Say you have a TV and cable box in the living room, and second TV in the bed room upstairs. You can change cable channel either in the living room or on the bed upstarirs with the cable box remote control. You do not have to go downstairs each time you want to change cable channel.
4 & 8 Way HDMI splitters are also available: http://www.sfcable.com/1105-SF-04.html?c=hdmi-extenders
---