Display Port Male to HDMI Adapter, 6.5
Product Announcement from SFCable.com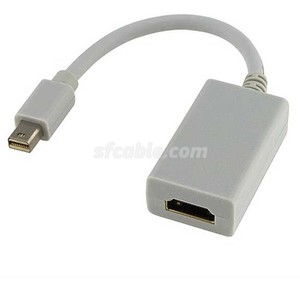 The new MacBook, MacBook Pro, and MacBook Air each have a Mini Display Port that allows you to connect an external display or projector using an adapter. You can use an external display as your main workspace or to extend your desktop, or you can work in mirrored mode with a projector so you can view what your audience sees.
Use the Mini Display port to HDMI Adapter to connect an digital monitor, such as large screen LCD Display, or overhead projector with HDMI input. Compatible only with MacBook, MacBook Pro, and MacBook Air with Mini DisplayPort. Review the documentation or check with the manufacturer of your monitor to make sure you're choosing the right adapter.
Mini DisplayPort to HDMI Female Adapter Cable for Apple Macbook, Macbook Pro, iMac, Macbook Air, Mac Mini Laptop.
Mini Display Port to HDMI Adapter
Length: 6.5 inches
Support Mini DisplayPort 1.1a input and HDMI1.3b output
Support HDMI highest video resolution 1080p
Support compressed audio such as DTS Digital, Dolby Digital
Support HDMI 12bit per channel (36bit all channel) deep color
Compatible with MacBook, MacBook Pro, and MacBook Air with Mini DisplayPort Connection
---