Capacitive 2 Wire Loop Powered Level Sensor
Featured Product from Sitron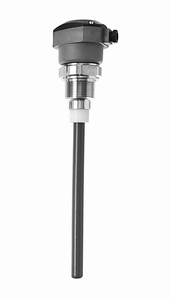 The SC404 Capacitance Continuous Level Measurement probe is one of the most flexible, as well as cost effective, level solutions for a great variety of applications. The built in (one-piece) electronic module provides a 4-20mA output (2 wire) signal that is proportional to the level.
The SC404 features a potentiometer for Zero and Span adjustment and a select switch to account for varying sensitivity according to the medium or product, tank dimensions, rod's length, position of installation as well as other application features. The SC404 continuous level probe also allows for a long distance application, by utilizing optional armored cables to avoid interference.
* Rods or cable can be coated with PTFE upon request.
* For applications with non-metallic tanks we recommend the use of a sheath as a reference.