Conductive Level Switches CLF (1 to 5) Fixed Rods
Featured Product from Sitron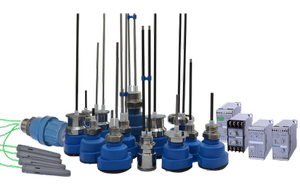 Sitron's model CLF-(1 up to 5) level switch is the most commonly specified conductive level switch. The CLF-(1 up to 5) can accommodate up to five 316S.S. fixed rods for five different levels of control. The rods are isolated with a Teflon joggle and can also be coated with Teflon, epoxy or nylon when the probe is applied in aggressive or sticky mediums prone to build up. Operating levels in the tank can be easily modified by cutting the length of the electrodes.
As with all of Sitron´s products the CLF models have a rugged, compact and modern no-moving-parts design. This makes the CLF models very reliable switches for controlling all conductive liquid mediums as well as for high-pressure applications.
CLF probes are available with 316S.S. threaded or with sanitary connections.
CLF models are used along with two types of controllers: The BS/16 and the CN/16D.