Flow Switch...Gas and Liquid
Featured Product from Sitron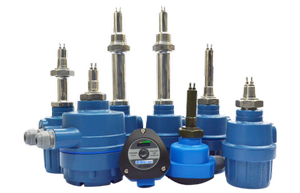 Sitron's versatile and intelligent line of Thermal Dispersion Flow Switches are compact switches and transmitters, with no moving parts, that can monitor and control the flow of liquid and gas in pipes and ducts. They can also be used for single point level detection for liquids. Sitron's series of flow switches and transmitters are available in different models that provide for different power supply, output and connection requirements.
All models are manufactured using 316 S.S. and can be coated when necessary for aggressive mediums. All of the CF12 and CF420 models can operate in temperatures up to 248ºF (120ºC) and have a maximum working pressure of 4350 PSI (300 bar). A display chain of 8 LED's is available for all models to indicate flow rate (CF420) and to help the set point adjustment (CF12 series). Sitron also offers the option of sanitary connections such as Tri-Clamp as well as the standard threaded and flanged connections. In addition, the orientation of the enclosure can be rotated so that the LED display can be best viewed, after the process connection has been tightened.
Sitron's line of flow switch monitors are highly reliable industrial instruments that provide the durability and speed required for today's general as well as harsh process environments for flow and level. TECHNOLOGY:
Sitron's line of thermal flow switch is based on the principle of thermal dispersion. A typical configuration uses two platinum Resistance Temperature Detectors (RTD's) set within the tip of the sensor. One RTD is heated a few degrees above the temperature of the medium and the other RTD is used as a reference, sensing the actual process temperature. The second RTD also monitors the temperature of the medium, as any changes in temperature must be compensated for in the first RTD.
As the process medium flows over the tip of the sensor it disperses some of the heat from the first RTD. The temperature change between the two RTDs signals the probe's electronics and the switch changes state once the set point has been reached. For the CF420, the microprocessor-based electronics constantly updates and reviews the signals received, in return putting out a 4-20mA analog output signal, which is proportional to the flow rate. FEATURES:
* Simple to install & low in cost * No moving parts-maintenance free reliability * Optimal temperature compensation * Can operate in temperatures up to 248ºF (120ºC) * Have a maximum working pressure of 4350 PSI (300 bar) * Choice of output signal * Chain of 8 LED´s-Integrated flow rate/set point indication * Fast response time for flow or level * Excellent low flow sensitivity * Can be coated for aggressive mediums * Insensitive to dirt and on most particles * Available in EX-Proof version * Available in threaded, flange, sanitary and adjustable insertion lenght connections * 3A approved