Flow Switch...Thermal Dispersion
Featured Product from Sitron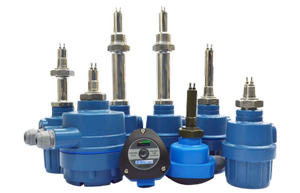 CF 12AC - Power Supply: 85...240 VAC/ Delay (SPDT) Output
Sitron - The CF 12 AC is a thermal flow switch monitor designed to monitor flow status for liquids, air and gas and is also used to detect level of liquids. A chain of 8 LED´s gives the user a visual indication of the flow rate. In addition, there is also a di-chromatic LED, which switch the point status of the unit.
The sensing element and connection of the CF12 AC are made with 316 S.S. and the enclosure is glass filled nylon. The CF12AC can be made with a great variety of process connections such as threaded, flange, or sanitary and can be coated when necessary.
This model is also available in an Explosion Proof (EX) version with an aluminum enclosure, designed to detect and level of liquids and gas in hazardous environments.