Monitor Misalignment on Rotating Machines
Featured Product from Sitron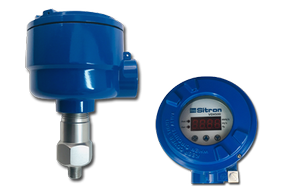 The VDX500 Vibration Transmitter and Switch is able to monitor the amount of vibration for all types of rotating machinery such fans, pumps, motors and other industrial machines. It measures the vibration to which it is exposed and offers two independent SPDT relay outputs (each with independent time delay and on/off control) when vibration exceeds the preset values so that the equipment it is monitoring can be repaired before extensive damage and more costly repairs are required. This is referred to as Early Fault Detection.
The VDX500 is well equipped for rotating machine protection applications. It has a bright 3 digit display with unit markings in mm/s, in/s, percentage %, a 4...20mA analog (non isolated) output and 2 independent SPDT relay outputs with LED status indicator per alarm. Set point and Reset point setting for both relay outputs as well as an
independent time delay for each switch) is user configurable. Also, the user can configure the unit of measurement shown in the display. Vibration is monitored in r.m.s. (root mean squared), a technique considered best for general machine health.
The VDX500 makes online vibration monitoring cost-effective with its optional analog output retransmission which can be connected to a PLC, DCS or other industrial control equipment.
Download data sheet to learn more about features and specifications.