Optical Repeater for Fiber Optic LAN Applications
Featured Product from S.I. Tech, Inc.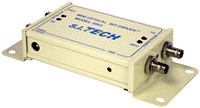 Geneva, IL - S.I. Tech is announcing the availability of its new model 2062 Optical Repeater Mini Bit-Driver.®
This product allows LANs to convert fiber optic multi-mode cable to single-mode fiber applications or single-mode to multi-mode. The 2062 can also convert one size of fiber to another (e.g. 62.5 micron fiber to 200 micron fiber). The standard interface is ST connectors for all fiber sizes.
The 2062 can also be applied to functionally extend the distance of any fiber optic link up to 10km.
The operation mode is 16 Mbps, full duplex. The transmission distance is up to 2km of 62.5 micron fiber or 10km at single-mode fiber. The 2062 is powered by a wall transformer at 12 or 24VDC.
Additional information can be found at: http://www.sitech-bitdriver.com/products/cluster.htm
S.I. Tech is an advanced-technology corporation founded to develop and market fiber optic systems. The company started operations in 1984 after it acquired the fiber optic systems business of Belden Corporation. In 1988, the company expanded its offerings by acquiring the fiber optic multiplexer business unit of Honeywell. S.I. Tech's products are marketed worldwide under the Bit-Driver trade name.