Profibus Fiber Optic Product Line by S.I. Tech
Featured Product from S.I. Tech, Inc.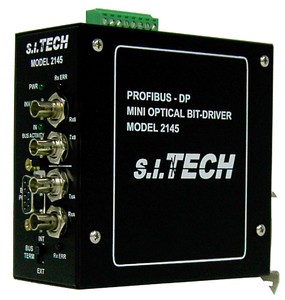 Model #2145 is available with various options and features such as:
Multimode or Single mode Fiber
Plastic or Glass Fiber
9600 Bps to 12 Mbps – switch selectable
Din Rail Mounting
Status Indicators
Tested & Approved by Profibus Lab
Additional information can also be found at

http://www.sitech-bitdriver.com/products/rs485multidrop.htm.

S.I. Tech is a fiber optic systems company marketing products worldwide under Bit-Driver® and Fiber Cluster® trademarks. For additional information call Toll Free 866-SITECH-1, Phone 630-761-3640, or Fax 630-761-3644.