S.I. Tech Introduces USB 2.0 to Fiber Bit-Driver®
Product Announcement from S.I. Tech, Inc.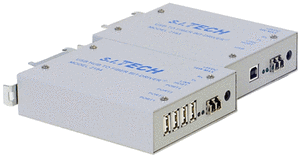 S.I. Tech has developed two new USB 1.1 and 2.0 to Fiber Optic Bit-Drivers. These products allow a computer's USB port to be extended over 500 meters using multimode 50 micron fiber, 275 meters with 62.5 micron fiber, and over 5 Km using single mode fiber*. USB 2.0 operates at low speed (1.5 Mbps), full speed (12 Mbps), and high speed (480 Mbps).

Model #2183 USB 1.1 and USB 2.0 to fiber Bit-Driver and model #2184 USB 1.1 and USB 2.0 Hub to fiber Bit-Driver provides USB 1.1 and 2.0 over fiber to a 4 port USB hub. The fiber link established works transparently between computer and remote devices.

S.I. Tech model #2184 Hub has 4 USB ports that allow peripherals such as scanners, printers, digital cameras, storage devices, and other USB products to be connected to a remote PC. No software or set up is required for either USB Bit-Driver.

The new products have smaller physical size than previous versions, use LC fiber connectors, and can be DIN rail mounted. S.I. Tech 2183 connects to UHCI, OHCI, and EHCI host. The 2183 and 2184 also works with National Instrument Controllers. These have been successfully field tested by several customers and are now shipping internationally.

S.I. Tech model 2183/2184 USB media converter pair extends the range of USB 2.0 beyond the USB 5 meter limit. The units come equipped with various status indicators showing link activity. Using fiber optics eliminates many disadvantages of USB cabling such as short distance, EMI/RFI, grounding problems, and allows long distance applications to operate error free. USB 2.0 products are particularly suited for data intensive, graphics, and video applications. S.I. Tech products are UL/CE/FCC compliant.

S.I. Tech is a fiber optic systems company marketing products worldwide under Bit-Driver® and Fiber Cluster® trademarks. For additional information visit our web site at www.sitech-bitdriver.com or call Toll Free 866-SITECH-1, Phone 630-761-3640, or Fax 630-761-3644.
---