Wave Division Multiplexers
Featured Product from S.I. Tech, Inc.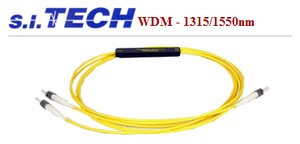 Wave Division Multiplexers (WDM) combines 2 or more optical wavelength signals on the same fiber cable for transmission. WDMs are useful when there are a limited number of fibers available. They are extremely useful for very long distance transmission to reduce cost of cabling and significantly increase the amount of data transmission. The following Fiber Optic Wave Division Multiplexers are available from S.I. Tech.
S.I. Tech multiplexers combine several electrical signals to light, allowing data to be transmitted over fiber optic cabling. This enables data to be transmitted farther, reduces EMI/RFI interference, and provides for secure communications (See why fiber optics).