Baker AWA-IV
Product Announcement from SKF USA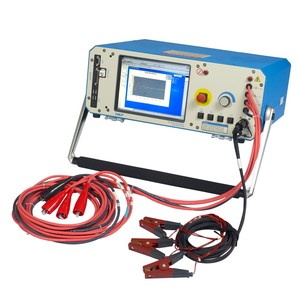 Overview
Second only to bearing failures, insulation faults account for the majority of motor and generator failures. Such failures can cost hundreds of thousands of dollars of lost productivity from unplanned downtime. Maintenance professionals can avert such motor insulation failures by testing motors while they are in a static state (powered-down, off-line, or before they are placed in service). The Baker AWA-IV Windows 7 version performs tests on electric motors and generators to determine if the motors will operate as they are expected while they are in service. It supports all major electric motor tests in a portable unit, including surge, polarization index (PI), step voltage, DC hipot, megohm, and winding resistance tests.
The Baker AWA-IV is a high-voltage analyzer that is easily programmed by users to perform tests automatically. An operator can set and save unique sets of tests on specific motors that need to be performed. Maintenance routes can be programmed into the instrument that specify which motors to test with parameters for each test, including voltages, duration and pass-fail limits. An operator can conduct tests on a given motor in the field simply by selecting the motor from the database with the preprogrammed tests respective to that motor. This improves accuracy in testing procedures due to repeatable and consistent testing, which is vital to a successful predictive maintenance program.
Test results can be saved with a permanent test record of each motor. Test results are collected, stored and managed with an industry-standard relational database.
When coupled with an SKF high-current surge testing accessory, the Baker ZTX, the Baker AWA-IV can easily perform these specialized tests on DC motors, form coils and other low-impedance windings.
The automated Baker AWA-IV is the industry's standard for motor testing with reliability and maintenance management professionals. The Windows 7 OS enables the analyzer to connect to computer networks via wired Ethernet or an optional wireless network adapter accessory.
---