Shaft Alignment
Service Detail from SKF/North America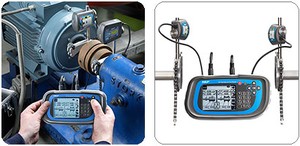 The SKF Shaft Alignment Tool (Series TKSA 20, 40, 60, & 80)
SKF has developed a range of easy-to-use shaft alignment tools that are suitable for a majority of alignment tasks.
The TKSA 20 is an easy-to-use laser shaft alignment tool, which requires no special training to operate. Compared to traditional dial indicator methods, the shaft alignment process is greatly simplified, as no additional calculations are required in order to make the necessary adjustments.
The laser alignment system TKSA 40 is intuitive in operation, thanks to its animated graphical interface. Not only is it quick and easy to use, but alignment results can be stored and shared using a USB cable via the PC. Compared to traditional methods, the shaft alignment process is greatly simplified; just follow the instructions on the screen to make a perfect alignment.
The TKSA 60 is an extremely rugged wireless laser shaft alignment tool that can be used in harsh environments. The system provides instant expertise with a built-in step-by-step alignment process, from preparation, inspection and evaluation through correction, reporting and analysis. The system incorporates the latest alignment knowledge and decades of SKF experience of rotating equipment.
For effective machine alignment, the measurement is only 5% of the process. Users often find themselves encountering difficulties by skipping some important alignment steps. The TKSA 80 system has a complete built-in alignment process to increase users knowledge of alignment . The program takes users from preparation and evaluation all the way through to correction and finally a report of the result. With a 7 inch screen, the TKSA 80 can accommodate large machine train alignment jobs. It offers a unique database to store the machine set-up data for future use, visual inspections on oil leakage, oil level, foundation bolt status and wear indications.