Predictive Maintenance
Service Detail from SKF/North America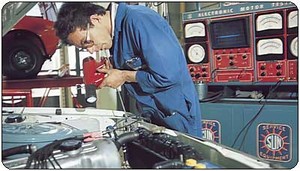 Basic condition monitoring is essential for achieving maximum bearing service life
To help ensure long bearing service life, it is important to determine the condition of machinery and bearings while in operation. Good predictive maintenance will help reduce machine downtime and decrease overall maintenance costs.
To help you achieve the maximum service life from your bearings, SKF has developed a wide range of measuring instruments for analysing the critical environmental conditions, which have an impact on bearing and machine performance.
The SKF range covers the most important parameters for measuring machine condition to achieve optimum bearing performance:
Temperature
Speed
Noise
Oil condition
Vibrations
Bearing condition
Condition monitoring/predictive maintenance is the process of determining the condition of machinery while in operation. This enables the repair of problem components prior to failure. Condition monitoring not only helps plant personnel reduce the possibility of catastrophic failure, but also allows them to order parts in advance, schedule manpower, and plan other repairs during the downtime.