Wind Turbine... Maintenance/Monitor Solution
Service Detail from SKF/North America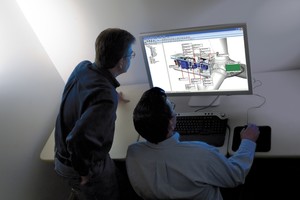 SKF® WindCon 3.0 system introduces proactive solution to monitor wind turbines
The SKF® WindCon 3.0 offers a proactive solution enabling wind farms to extend turbine maintenance intervals, effectively manage maintenance resources, reduce unplanned downtime, predict remaining turbine service life, and decrease operating costs per KWh. This third generation system monitors component conditions in real time and delivers the opportunity to make maintenance decisions based on actual machine conditions instead of arbitrary schedules.
The SKF Windcon 3.0 can interconnect with all key turbine systems, including those revolving around centralized lubrication, blade monitoring, and gearbox oil condition. The technology can continuously monitor single units or entire wind farms, even from afar using SKF WebCon software.
The system can monitor and track unbalanced propeller blades, misalignment, shaft deflections, mechanical looseness and foundation weakness, bearings and gears, tower and blade vibrations and resonance, electrical problems, and inadequate lubrication, among others.
The SKF Windcon 3.0 is engineered for easy installation on all turbine sizes and types on land or at sea. Custom solutions can be developed to satisfy the most demanding application requirements.
Contact SKF USA Inc., 890 Forty Foot Road, Kulpsville, PA 19443
Phone: 800-440-4SKF E-mail: skfusainfo@skf.com
Web site: www.skfusa.com