High Performance Belts... Power Transmission
Featured Product from SKF/North America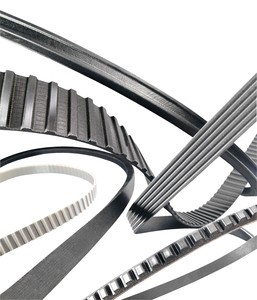 SKF offers a comprehensive range of standard, high-performance belts ideally engineered to deliver efficient and reliable power transmission in drive-system applications across industries. All SKF belts benefit from innovative materials, designs, and manufacturing to accommodate the most demanding working loads, provide extended service life, and transmit power effectively from one component to another.
The extensive line of SKF belts joins a growing portfolio of power transmission products delivering optimized performance for equipment in the mining, automation, material handling, oil and gas processing, steel, and food and beverage industries, among many others.
The standard SKF product line includes V-belts in a variety of constructions (wrapped classical, wrapped narrow wedge, cogged raw edge classical, narrow wedge, and Xtra power wedge) and timing (or synchronous) belts with classical, HiTD, or metric constructions. Timing belts uniquely integrate durable teeth enabling full engagement with pulley sprocket grooves to prevent potential slip and enhance accuracy and speed. All belts can be specified in various lengths and dimensions with speed ratios and power ratings consistent with application requirements.
SKF belts install easily and are equipped to sustain proper tension, maximize rigidity, and minimize potential stretch. Versions can be specified to handle especially high dynamic loads without compromising flexibility or generating excessive heat.
Designs can be optimized with the SKF belt drive calculation program to develop the most efficient and economical solution.
Contact Bill Stevens, Business Development Leader Specialty Traded Products, SKF USA Inc., 890 Forty Foot Road, Lansdale, PA 19446. E-mail: bill.g.stevens@skf.com