Machine Health Reporting Program
Service Detail from SKF/North America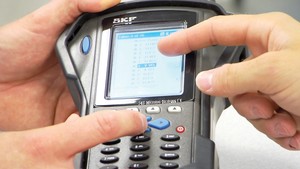 SKF Machine Health Reporting Program
An affordable path to predictive maintenance
For years, large-scale manufacturers have been using predictive maintenance (PdM) programs to cut maintenance costs, boost machine availability and prevent production losses. But for small- to medium-size facilities, PdM program investment costs have put these benefits out of reach. SKF has a much more affordable solution.
The SKF Machine Health Reporting Program (MHRP) is a partnership offering that can help your plant enjoy many of the benefits of a comprehensive predictive maintenance program - without the need to invest in condition monitoring equipment or specialized data analysis training that a PdM program requires. SKF instructs your maintenance personnel how to use an SKF handheld data collector to capture vibration data during their normal duties. Collected data is transmitted to SKF via the Internet, then analyzed by a certified SKF Reliability Engineer who identifies problems and recommends actions to avoid unplanned downtime.
The SKF MHRP allows your team to tap into decades of SKF predictive maintenance and rotating machinery analysis expertise, even as it enables them to focus on more production-related activities. For a monthly fee based on the number of machines you choose to monitor, the program delivers many benefits. Highlights include:
SKF provides a state-of-the-art data collector and on-site instruction.
Your own people collect the vibration data.
SKF certified Reliability Engineers manage your database using specialized software.
SKF analyzes your data and publishes monthly Machine Health Reports on a
private web page.
SKF calls to alert you to urgent machinery health conditions.
SKF keeps your program on track with quarterly visits and up to 12 out-of-schedule analyses.
For more information, contact Eric Lautzenheiser at eric.Lautzenheiser@skf.com or visit our web site.