Spindle Repair/Rebuild capabilities - machine tool
Service Detail from SKF/North America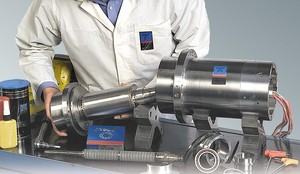 SKF capabilities to repair, rebuild, and/or upgrade machine tool spindles include dedicated in-house spindle service facilities and engineering support to handle virtually any spindle brand and type. All spindle repair, rebuild, and upgrade services are executed in fully outfitted, state-of-the-art machine shops with the ultimate objective to return machine tools to enhanced levels of productivity and efficiency.
The extensive portfolio of SKF spindle remanufacturing capabilities includes advanced spindle analysis and testing, engineering, precision grinding, machining, parts repair and manufacture, motor design and manufacture, custom modifications, balancing and vibration analysis of complete assemblies, and spindle component balancing, among many others. Teams of extensively trained, experienced, and highly skilled engineers and technicians deliver optimized support for successful outcomes.
SKF can remanufacture the widest range of spindle types, whether belt-driven, coupled-driven, gear-driven, direct-drive, or standard or high frequency motorized versions. Spindle upgrades – whether relatively simple or complex – can be performed to boost spindle performance, speed, and/or versatility, whether involving improved bearings, enhanced sealing systems, or shaft and housing redesigns or modifications, among many other options.
Spindles additionally can be customized to meet particular application demands and repair requests can be made on-line for quick response and turnaround
Contact Patricia Wilson, SKF USA Inc. Phone: 440-720-1545. Email: Patricia.E.Wilson@skf.com