SKF Rotating Equipment Performance
Service Detail from SKF/North America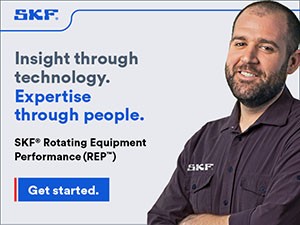 In today's date-driven landscape, manufacturers are beginning to rethink how they operate. Global competition is inspiring companies to find new and innovative ways to increase productivity through optimized machine performance.
Fortunately, emerging technologies are keeping manufacturers up and running at maximum productivity. SKF's Rotating Equipment Performance program helps increase machine health while lowering operational and maintenance costs. This scalable solution ranges from single-asset monitoring to full-plant optimization.
It starts by identifying the ideal performance requirements for each machine and setting benchmarks to establish desired outcomes. SKF monitors machine health and provides solutions to improve productivity and reliability.
Whether you're looking to monitor a single piece of machinery or all assets, SKF's Rotating Equipment Performance program delivers actionable, intuitive insights.
How does it work? SKF's Rotating Equipment Performance program uses precision data and visualization to help companies gain deeper understanding of their machine performance. Customers have access to asset reporting with real-time dashboards highlighting machine health and industry benchmarks.
SKF has hands-on experience in over 40 industries and is committed to helping manufacturers overcome their unique business challenges such as solving a specific rotating equipment problem, increasing equipment performance or improving maintenance strategy.
Advanced condition monitoring and remote diagnostics help companies reduce both operating expenses and unplanned downtime to lower a machine's total cost of ownership.