NEW...Bearing End Covers - Safety in Food Industry
Product Announcement from SKF/North America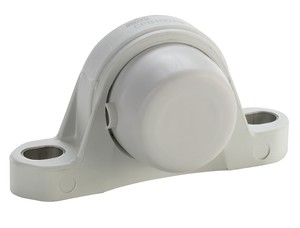 New MRC® end covers for Marathon® series bearing units introduce reliable and effective solutions to eliminate exposed shaft ends and promote compliance with increasingly stringent health and safety regulations governing the food manufacturing and processing industries. Covers have been designed for a wide range of Marathon bearing unit types and provide an extremely secure fit to help prevent dislocation during aggressive high-pressure wash downs.
MRC Marathon end covers additionally feature a drain option to reduce risks of increased bacteria counts resulting from internally trapped water. Drainage holes can be opened easily as required.
The end covers ideally suit Marathon composite or stainless steel bearing housings in a variety of mounting styles and can accommodate shaft diameters from ¾ in. / 20mm to 1-1/2 in. / 40mm. All end covers have been tested to withstand 100 bar pressure wash to achieve the highest levels of security in service.
Mounting can be accomplished quickly and easily by inserting tabs of the cover into the bearing unit's housing groove and then simply snapping the tabs in place.
The covers add value to the MRC Marathon bearing unit product line, which has been engineered for harsh operating conditions in food and beverage equipment applications, among others. All units are corrosion-resistant, virtually maintenance-free, and incorporate optimized seals and lubricants. Made-to-Order (MTO) warranted products can be developed.
---