Video Endoscope...Handheld for Restricted Spaces
Product Announcement from SKF/North America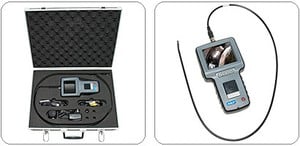 Fast and easy inspection thanks to industrial endoscope with video function.
The SKF video endoscope TKES 1S is a compact handheld instrument that allows the user to view applications in restricted spaces that could not normally be seen with the naked eye.
The display unit with a 3.5 inch TFT LCD screen has the capacity of viewing, storing and reviewing still and video images. Images can also be displayed directly on a TV screen or stored and transferred to a PC for viewing later.
The flexible insertion tube uses a miniature camera, equipped with powerful variable LED lighting, to provide the screen image. The SKF industrial endoscope TKES 1S can be used as a first line inspection tool and save time and money by reducing the need to disassemble items for inspection.
Compact, palm sized video endoscope allows true portability
Easy to assemble and use, no special training required
Advanced high quality optics gives an excellent full screen image and good resolution compared to fiber optic type endoscopes
The 3.5 extra-wide view angle and clear TFT monitor, protected by oil and scratch resistant tempered glass allows for easy viewing of photos and videos and helps image interpretation
Fully flexible 1 meter (3.3 ft) insertion tube with a small tip diameter of 5.5 mm allows easy access to most applications
The 1 GB SD memory card provided can store up to 30 000 photos or 4-5 hours of video. This is more than enough for almost any user
Photos and videos can be transferred to PC using the USB cable provided. No special software required for most MS Windows® operating systems
Built-in step-less adjustable LED lighting helps prevent under and over illumination of target
Water resistant flexible tube can be used in applications where moisture is present
67° field of view offers an excellent viewing range for restricted space applications
Supplied with right-angle side view adapter
Multilingual menu on display unit
Supplied complete with all necessary cables, universal mains charger and carrying case
Not for medical applications
---