SKF MECH-TRONIX, complete system solution spindles
Featured Product from SKF/North America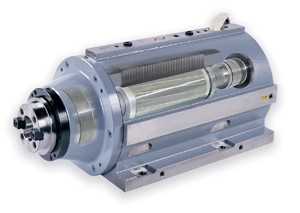 SKF® Mech-Tronix spindles with integral AC motors introduce a complete system package offering high power capabilities and variable speed performance. Their factory-matched drive, chiller, and other component options allow users to specify solutions for the most demanding milling, boring, or grinding application requirements.
The drop-in systems in four standard models incorporate spindle, pre-programmed variable speed microprocessor-based AC drive, and spindle-cooling chiller/circulator matched for compatibility and suitability for an application. Speeds up to 11,800 RPM and 20 HP (SI duty) at maximum RPM can be achieved, depending on model.
Motor choices include totally enclosed liquid-cooled (TELC) motors engineered to generate more than three times as much power as totally enclosed non-ventilated (TENV) types (also available). Maximum torque from 10Hz to 60Hz can be realized. Embedded thermistor motor protection senses overheating conditions before serious damage can occur.
Users can select from several different chillers; various nose designs; duplex or triplex bearing arrangements greased for their service life; and other "in stock" precision components contributing to timely spindle assembly and delivery. Custom systems can be developed.
Contact SKF USA Inc., 1530 Valley Center Parkway, Bethlehem, PA 18017-2266. Phone: 800-541-3624 (toll-free). Fax: 610-861-4811. Email: skfusainfo@skf.com Web site: www.linearmotion.skf.com
(SKF® is a registered trademark of SKF USA Inc.)