There's An App for That
Service Detail from SKF/North America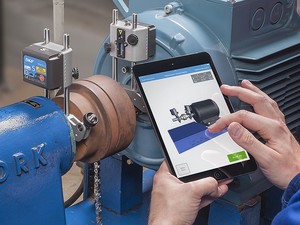 Not too long ago, readily available resources on how best to set up, operate, monitor, and maintain machinery were limited. When searching for help and answers, the few available choices were to turn to a more experienced colleague, consult an equipment manual, or contact a component supplier.
With the arrival of mobile apps, however, resources have multiplied for the industrial marketplace.
SKF mobile apps deliver immediately accessible capabilities for engineers, maintenance staff, and others to download technical information, software programs, applications support, and easy-to-use tools anywhere and anytime via smartphones and tablets. Over 50 apps have been created—with more to come—and can be accessed from the Apple app store and Android market.
The apps cover much ground, whether offering engineering and calculation tools, informational and educational resources, or reliability and maintenance support, among other categories. Some noteworthy examples:
BEARING CALCULATIONS. The

SKF Bearing Calculator

ranks among the most popular in the SKF portfolio. This app makes it easy to perform complex bearing calculations, provides a detailed report documenting input and calculation results, and enables proper bearing selection, based on a variety of key parameters selected from a check-off menu.
SEAL SELECTION. Seeking the most appropriate shaft seal or seal accessory for a machine? The

SKF Seal Select

app profiles a comprehensive range of sealing solutions complete with application recommendations for each, based on your input.
LUBRICATION. Setting up an automatic lubricator for bearings?

SKF DialSet

, a mobile app for smartphones, accurately shows the recommended dispense rate for grease, establishes the correct settings based on application criteria and the selected grease, confirms re-lubrication intervals, and calculates lubricant quantities.
POWER TRANSMISSION SOLUTIONS. Need help in finding a proper belt for an application or in troubleshooting belt performance? The

SKF Belt Calculator

app can help make the pick and identify more than 100 possible solutions for particular belt-performance problems within seconds.
REFERENCE MATERIALS.

SKF Shelf

offers access to the vast library of SKF product and technology literature. This literature is available in various languages and allows searching and sorting by product, industry, and other categories. SKF Shelf does the heavy lifting for instant access to all current SKF printed material data.
COUNTERFEIT DETECTION. Do you think that you may have a counterfeit SKF bearing? There's an app for that, too: the

SKF Authenticate

app can help you find out for certain by working with SKF to confirm product authenticity.
ELECTRIC MOTOR MONITORING. The

SKF EMCM Capabilities

app is an educational resource providing an overview of electric motor condition monitoring technologies. This app helps users to understand the tools to monitor the health of electric motors with an eye toward preventing failures and maximizing motors in service.
The availability of SKF mobile apps with their how-to references, information support, calculation and selection tools, and other capabilities can help make life easier for maintenance personnel and promote optimized plant productivity all along the line.
---