Machine Monitoring System...Wireless
Product Announcement from SKF/North America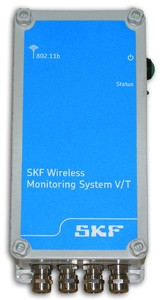 SKF Wireless On-line Machine Monitoring System
SKF New Wireless Machine Monitoring System V/T designed to improve reliability, reduce installation costs and increase personnel safety in industrial applications. The compact device collects four channels of acceleration, velocity and/or bearing condition data and four channels of process data, e.g. temperature, 4-20 mA. Data is automatically uploaded via a standard WiFi 802.11b wireless network to SKF Machine Suite for viewing and analysis.
According to Ed Bondoc, SKF On-line Systems Product Line Manager, "technology is ideal for monitoring machines in areas that are inaccessible, difficult orSKF Wireless dangerous to reach. The flexibility of the wireless device accommodates moving machine components where hard-wiring is not possible, machines that are frequently moved within the facility or transported between different sites, temporary installations, testing or in combination with sensor switch boxes." Ed continued, "In addition to the safety and convenience of a wireless system, there is potential cost savings to be achieved by reducing the material and installation costs for cables, particularly in hazardous or hard-to-reach locations."
Available as a turn-key solution or as part of an SKF service contract, SKF Wireless Monitoring System V/T can be set up and ready to use quickly, particularly in locations that already use SKF Machine Suite software. The Wireless V/T is fully compatible with other SKF portable and on-line hardware. Visit www.skf.com/cm for more information.
---