Solar Linear Actuators - by SKF
Product Announcement from SKF/North America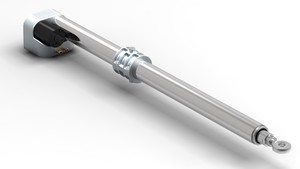 SKF® - introduces a new advanced Solar Linear Actuator.
The new advanced SKF® Solar Linear Actuators (Type CASD-60) enables precise tracking of the sun from sunrise to sunset throughout the seasons to improve solar power generation. The actuator is designed for a 20-year service life and can be applied for the full range of photovoltaic (PV), concentrating photovoltaic (CPV), or concentrating solar power (CSP) systems. A high static load to dynamic load ratio contributes to reduced energy consumption, ideal positioning accuracy, and limited backlash allowing for consistent tracking. Robust unit design features, including a sealed protective tube, promote reliability in extreme conditions and increased drive protection, while reducing installation time.
The new actuator joins SKF's growing portfolio of solar industry-related products. These include bearings and units, lubrications systems, seals, mechatronics, and services offering high-performance and reliable solutions to meet the most demanding solar-power system requirements.
In addition to comprehensive and tailored solar-industry product offerings, SKF has pioneered "green" initiatives on a global scale with an overarching mission to maximize the use of renewables for power generation, whether tapping wind energy at SKF Headquarters in Göteborg, Sweden, or realizing the benefits of solar energy at SKF Schweinfurt, Germany.
The newest solar array system has been integrated at SKF USA headquarters in Lansdale, PA, atop both buildings on the campus. The PV system serves the originally designed and constructed 84,000-sq.-ft. three-story main headquarters facility and a 33,000-sq.-ft. refurbished former manufacturing plant. This solar-power system's 410 kW solar array is expected to account for 30 percent of the total power draw at the site and output is estimated to save 500,000 kWh in the first year alone. The headquarters formally opened in May 2009 and the solar-array system with 1,468 installed solar panels became fully operational in April 2011.
In a related "green" development, the USA headquarters building recently earned "Platinum" certification for "Commercial Interiors" under LEED (Leadership in Energy and Environmental Design), which is a nationally accepted authority cultivated by the U.S. Green Building Council. The prestigious "Platinum" status is the highest possible level of achievement. As part of its LEED certification and consistent with SKF's energy-efficiency objectives, SKF purchased "renewable energy credits" to cover its total electric usage at the facility over the next two years on the road to sustainable savings.
Contact SKF USA Inc., 890 Forty Foot Road, P.O. Box 352, Lansdale, PA 19446. Phone: 800-440-4SKF (toll free). Email: skfusainfo@skf.com Web site: www.skfusa.com
---