SLM 500 Metal Additive Manufacturing Machine
Featured Product from SLM Solutions NA, Inc.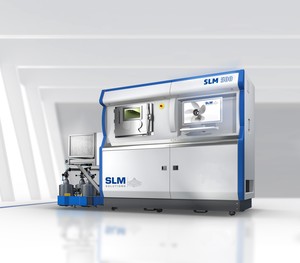 Achieve faster, cost-efficient builds for larger complex parts with the SLM 500 with unique twin or quad laser technology.
500 x 280 x 365 mm build envelope
2 standard 400W Fiber Lasers
Option to add 2 additional 400W (total of 4-quad lasers)
Integrate various types of lasers independently OR in parallel
Lower production cost for high volume metal parts with material saving and efficient closed-loop powder handling
Increase build speeds with patented bi-directional loader
Adapter for higher platform temperatures
Open software architecture & system parameters
Optimized laminated gas flow and re-circulation
As the flagship additive manufacturing system for high volume metal part production, the SLM 500 is built to ensure operator safety and lower overall operational costs. Likewise, the newly integrated SLM Build Processor and open software architecture offer the freedom of controlling system parameters to optimize and meet strict production needs.
The SLM 500 patented closed-loop transport of metal powder increases operator safety and eliminates time consuming manual fills and powder handling. To further reduce ancillary times, the automatic powder sieving procedure does not interfere with the parallel-running build process. The finished build cylinder is transported out of the system and the cooling process takes place inside the unpacking unit, so that the next build process can begin immediately.
If you need high volume production of metal parts with complex geometries, the next generation SLM 500 will allow you to achieve greater component quality and powder layer control performance. An option to add an Automated Layer Control System is also available to detect and correct powder preparation and execution after each cycle-exercising optimal quality control in your production.