Bimetal Pipe Transitions
Product Announcement from Hermetic Solutions Group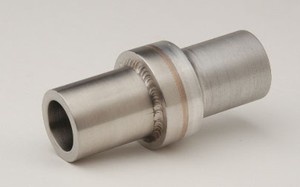 Explosive metal bonding is considered to be a solid-state welding process that uses controlled explosive energy to force two or more metals together at high pressures.
Explosively bonded metals can be used as weldable transitions between two dissimilar metals. For example, an explosively bonded pipe comprised of aluminum and stainless steel can be inserted between an aluminum vessel and a stainless steel vessel. This allows for direct conventional welding of the stainless steel structure to the stainless steel side of the bi-metallic pipe, and then direct conventional welding of the aluminum structure to the aluminum side of the bi-metallic pipe.
The photo shows a stainless steel pipe (left) joined to an aluminum pipe (right) with a transition ring (center).
The explosive metal bond is extremely strong and consistently survives bend testing, chisel testing, shear lug testing, ram tensile testing, die penetrate testing and ultrasonic testing
The Hermetic Solutions Group's Bonded Metals Division can produce bi-metal pipe transitions that incorporate a wide range of metal options.
---