Online Courses
Service Detail from SPIE - Education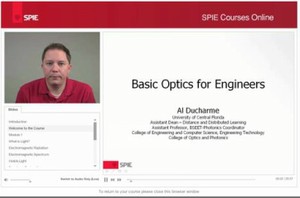 Need training but can't travel?
SPIE Online Courses provide all the benefits of live training, without the need for travel:
On your own time
At your own pace
At your own desk
Critical training with maximum flexibility
SPIE Online Courses are versions of our live courses designed to be taken on your time and pace, without the need for travel approval or funding.
Not just illustrated audio
Our courses provide a superior learning experience, including full video of the instructor with synchronized PowerPoint presentations, quizzes to test your retention of the material, and supplemental resources.
Measurable Value
Successful completion of courses earns you CEU (Continuing Education Unit) credits that fulfill your needs for ongoing professional training and education, including your PE certification.