Thinking About Using an S.S.White Flex Shaft?
Product Announcement from S.S. White Technologies, Inc.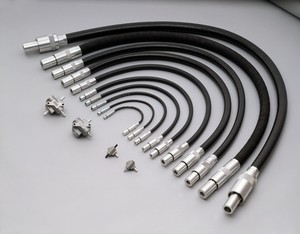 Flexible Shafts -- Custom and Standard. Ideal for applications requiring transmission of rotary motion over, under or around obstacles.They are a more affordable way to transmit rotary motion with higher efficiencies than gears, universal joints, belts and pulleys.
Custom shafts designed and manufactured for all applications including, but not limited to: Aerospace, Automotive, Medical, Toys and Industrial.
Ready Flex™ their line of standard shafts available in 48 hours, ideal for prototypes and short runs. *The only flexible shaft manufacturer in the world to provide three grades of flexibility for each diameter group. *Leading their design team is Dr. Adam Black, the only person worldwide to be awarded a Ph.D. on the mechanics of flexible shafts. Call them today to find out how a flexible shaft can improve your design.
Use the links below for additional product information, specifications and reference material:
· Standard
o Choosing a standard flex shaft
· Custom
o Choosing a custom flex shaft
In 1972 S.S. White Industrial Products Division broke away from its parent company in Staten Island, NY, and emerged as S. S. White Technologies Inc. setting up its headquarters and manufacturing plant in Piscataway, NJ. We are an OEM business. Our 200-plus employees represent a rich variety of geographical and cultural backgrounds. Here in our 90,000 sq. ft. facility, we manufacture our flagship product Flexible Shafts, as well as orthopedic surgical instruments including Xtract-All products; and house our subsidiaries namely Medical Products Incorporated ("MPI"), and Airbrasive Jet Machining ("AJM").
---